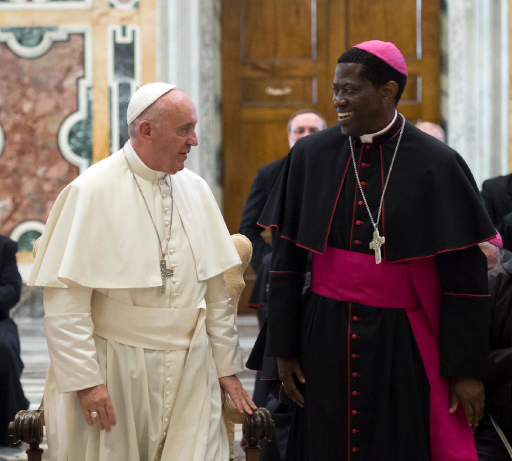 Archbishop Protase Rugambwa was born on May 31, 1960 in Bunena, in the Diocese of Bukoba, Tanzania.
His formative process:
• 1967-1982: elementary and secondary schools;
• 1982-1983: Military Service;
• 1983-1985: Studies of Philosophy in the Major Seminary of Kibosho in Tanzania;
• 1985-1989: Studies in Theology at the "St. Charles Lwanga Segerea Senior Seminary" in Tanzania.
He was ordained a priest on 2 September 1990 in Dar-es-Salaam by Holy Father John Paul II during his pastoral visit to Tanzania and was incardinated in the diocese of Rulenge, now Rulenge-Ngara.
Since his ordination he has held the following positions:
• 1990-1991: Parish Vicar in the parish of Mabira, Diocese of Rulenge;
• 1991-1994: Teacher at the Minor Seminary of Katoke, in charge of the liturgy and chaplain in the hospital of Biharamulo, Diocese of Rulenge;
• 1994-1998: Licentiate and doctorate studies in pastoral theology at the Lateran Pontifical University in Rome;
• 1998-1999: Director of a diocesan preparatory Seminary, San Tammaro, Director of vocations, executive Secretary of the diocesan pastoral department, also in the diocese of Rulenge;
• 2000-2002: Vicar General of the diocese of Rulenge and Moderator of personnel; 2002-2008: Official of the Congregation for the Evangelization of Peoples, in Rome.
On January 18, 2008, Pope Benedict XVI appointed him Bishop of the Diocese of Kigoma, Tanzania. He received episcopal consecration on April 13, 2008.
On June 26, 2012, H.E. Msgr. Rugambwa was appointed Adjunct Secretary of the Congregation for the Evangelization of Peoples with the role of President of the Pontifical Mission Societies, replacing H.E. Msgr. Piergiuseppe Vacchelli whose resignation was accepted upon having reached the age limit. At the same time H.E. Msgr. Rugambwa received the title of Archbishop "ad personam".
Since 1995, H.E. Msgr. Rugambwa, during the Christmas, Easter season and other occasions, has given a hand to parish priest, Msgr. Alfonso D'Errico, Parish of San Tammaro Vescovo - Grumo Nevano, celebrating Holy Masses and also administering the Sacraments.