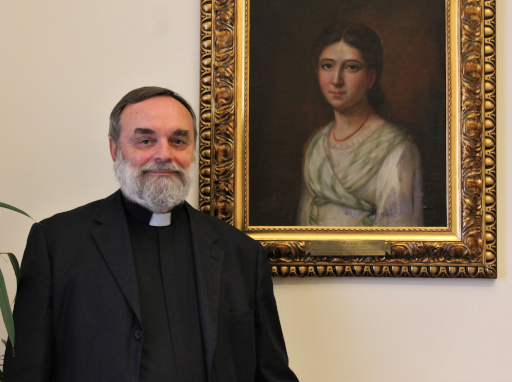 Father Tadeusz Jan Nowak was born in Krakow, Poland on November 1, 1956. In 1959 his family emigrated to Winnipeg, Manitoba, Canada.
His academic background: he attended high school in Winnipeg; in 1972 he Graduated in chemistry, University of Manitoba. In 1984 he obtained the Master in Theology (Master of Divinity), Newman College, Alberta. He graduated in Biblical Theology in 2004-5 and research for a doctorate in Biblical Theology in 2006-7, at the University of San Paolo, Ottawa.
His religious formation: he entered the Novitiate of the Congregation of the Oblate Missionaries of Mary Immaculate, OMI, in 1977 in Arnprior and made his perpetual vows in 1984 in Mississauga. He was ordained a priest on August 24, 1984 in Winnipeg, Manitoba.
Priestly service: he begins his priestly activity in the city of Toronto. From 1984-986 he was Vicar of the parish of St. Stanislaus Kostka, from 1986 to 1989 he was Vicar of the parish of St. Casimir and from 1989 to 1991 he was parish administrator of the parish of Our Lady. In 1991 he moved to Mississaug and until 1995 he was parish priest of the Parish of St. Maximilian Kolbe.
In 1996 he was called to hold the position of Superior of the Province of the Assumption of the OMI in Canada, until 1999.
From 1999 to 2000 he was in Jerusalem to complete his Biblical Studies at the Ecole Biblique.
Returning to Canada, he was in charge of managing the Retreat House of the Queen of Apostles until 2003, when he was appointed Rector of the OMI Seminary in Ottawa until 2007.
From 2007 to 2010 he was Dean of Studies and Professor of Scripture at the Diocesan Seminary of Sant'Agostino, Toronto.
In 2010 he was called to work at the Congregation for the Evangelization of Peoples as person in charge of the Secretaryship.
On 27 September 2017 he was appointed ad interim Secretary General of the Pontifical Society for the Propagation of the Faith and on 1 July 2018 his position was confirmed as Secretary General of the Society.