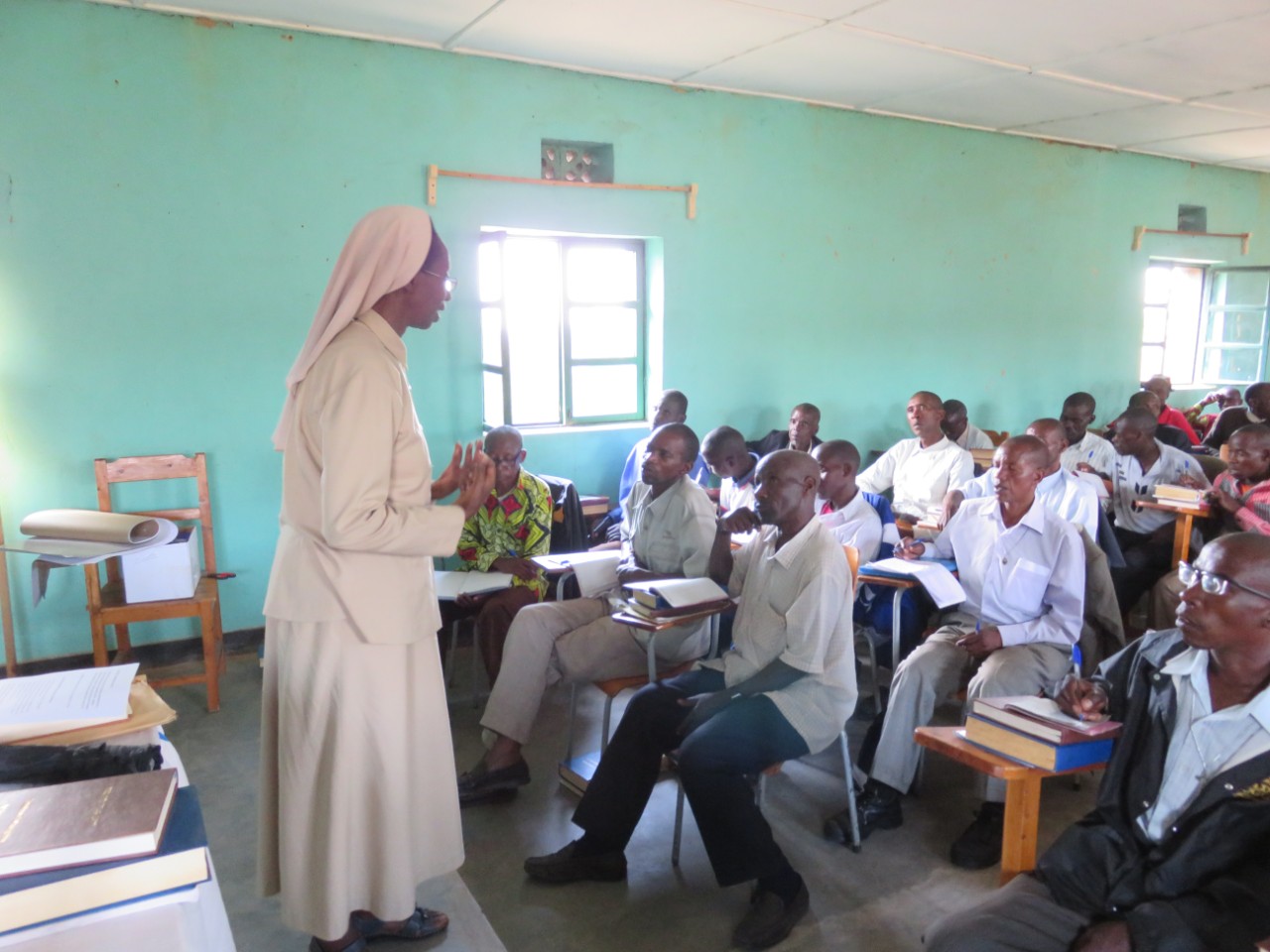 CHILDREN AND ANIMATION MATERIAL:
THE EXPERIENCE OF SISTER GENEVIÈVE UWAMARIYA IN RWANDA
Sister Geneviève how and when did your vocation begin?
My vocation goes back in time. When I was in fourth grade, thanks to a charismatic teacher who taught us religion and to pray and do acts of charity, we had formed a group of children who had compassion for the poor. We went to help the poor over the weekend, looking for wood for them, going to get water, reading the Word of God.
Today you hold the position of Head of the National Office in charge of the Catechesis of the Bishops' Conference of Rwanda. What is your main commitment?

My main commitment within the Bishops' Conference: the national office of Catechesis, which, in turn, has the commitment:
1. to be at the service of the needs of Catechesis in all Dioceses - catechesis for children and adults - at a school level and outside.
2. provide the Catechetical texts for all levels and the formation of catechists.
Can you tell us how the idea of ​​creating animation material with children to animate others came about?

As part of the commitment of the national office, there is this aspect concerning the supply of catechetical texts. When I took up service at the Bishops' Conference, I found that we had nothing as a training manual that could help children to be missionaries, while, in order to be missionaries, a spiritual, biblical and liturgical knowledge is required, etc. and it is here that I imagined something about the story of Salvation to animate children and make them, in turn, missionaries.
The discoveries made following the making of this animation material ...

The first quality of this material is image. For children there must be an evocative image. Jesus himself used images: the Good Shepherd, the sower ... Social media presents our children with images that sometimes destroy their lives. It is up to us, as a Church, to offer them constructive images. Children are first of all innocent. Now the message of the innocent is easily understood by everybody: it does not arouse resistance. Even before evangelizing other children, they evangelize their parents with whom they live (according to the testimony of the parents themselves). A Rwandan proverb states: "A calf that learns to graze begins very close to its home". Then, evangelizing other children: missionary children find themselves in others. They have the same language, the same way of doing things, the same vocabulary.
Finally, based on your experience, what is the purpose that a good catechesis should set himself/herself today?

Today the purpose of a good catechesis should aim at:
1. Articulating Faith and Life,
2. Testimony (have credible witnesses of the Faith),
3. True values ​​(respect for life, give meaning to life)
4. Ecology.