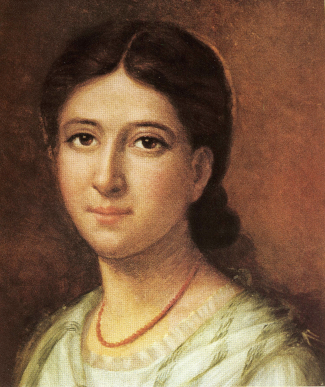 Pauline Marie Jaricot, was born in Lyon on 22 July 1799; here she lives a happy childhood, in a wealthy family.
As a teenager she enjoys her abundance of money, takes pride in her beauty, her jewels and her precious clothes that make her the queen of social encounters. However, she also had to deal with a strong and determined character, and often let herself go to anger. Precisely in this period Pauline experienced a period of painful suffering as a result of a bad accident at home: a serious fall from a stool. She had some injuries, but above all the consequences of that accident, led her to a long and painful depression. Doctors did not see any improvement despite treatment. Moreover, during the course of the illness, one of her beloved brothers died as well as her mother. It was precisely in this period of suffering that Pauline, through her participation in the Paschal Mystery of Christ, began to feel a profound closeness to God.
At 17, a sermon from her parish priest shook her and Pauline understood the greatness of God's love and the ephemerality of her existence. She experienced the nullity of her aspirations: a disappointing and infinite vanity that she abandons once and for all!

On Christmas Eve 1816 Pauline takes a vow of chastity and discovers in the devotion to the SS. Eucharist and in the reparation of the offenses against the Sacred Heart of Jesus, also insulted by the excesses of the past Revolution, the reasons for her life. The working girls of her father's factories gather around her in a Spiritual Association simply called the «Réparatrices».

In 1818, along the lines suggested by a booklet of the MEP (Missions Etrangères de Paris), this group also assumed the dimension of prayer and missionary animation, with the optional weekly offer of a penny "in order to cooperate in the spread of the Gospel". For Pauline this represents the orientation of her whole being towards the Mission. Stimulated also by the example of her other brother Philéas, determined to become a missionary, she perfectly combines the spiritual impulse with the concreteness of action.
In her mind the simplest and most effective way to pray and help the Missionaries is outlined: those who pray together for the Missions, together also help them. Thus a group action with 10 people was born, each of whom is committed to finding ten other people who pray and donate a penny for the Missions.

The idea inflames hearts and the project spreads like wildfire: on 20 October 1820 there are already more than 500 members in what will be called the Association of the Propagation of the Faith which led to its official founding on May 3, 1822.

In 1826 the Society expands in Europe, its Annals begin which contain the letters of the missionaries and maintains a close relationship with the Congregation de Propaganda Fide.

Pauline Marie Jaricot died on January 9, 1862.