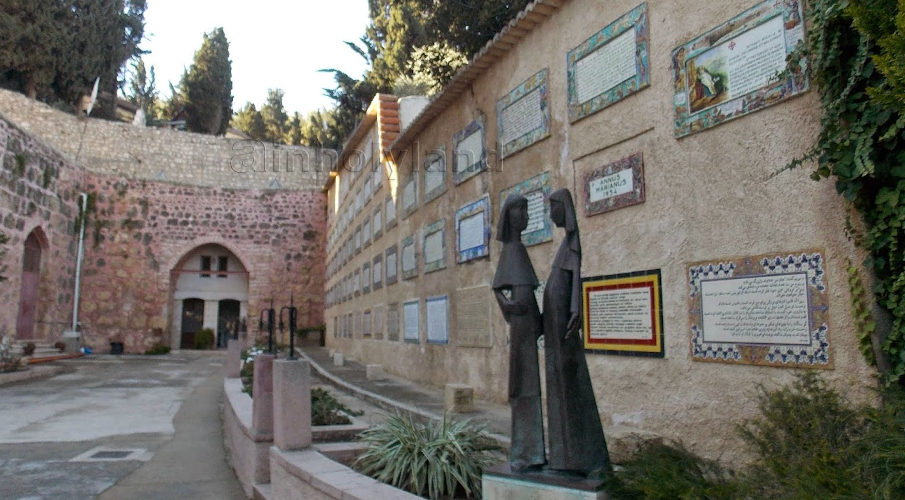 Fourth Sunday of Advent (Year C) - Lord, make us turn to you; let us see your face and we shall be saved
St. Anastasius I, Pope; Blessed Urban V, Pope
First Reading
Micah 5:1-4a
The ruler of Israel is promised to come from Bethlehem.
Responsorial Psalm
Psalm 80
Lord, make us turn to you; let us see your face and we shall be saved.
Second Reading
Hebrews 10:5-10
Through his obedience to God's will, Christ consecrated all.
Reading the Gospel
Luke 1:39-45
Mary visits Elizabeth, who sings praise to Mary and her child.
BIBLICAL-MISSIONARY COMMENTARY
"Lord, make us turn to you; let us see your face and we shall be saved"
The readings of this last Sunday of Advent help us, in this joyful season, and in anticipation of Christmas, to prepare ourselves with Mary, Mother of Christ, to welcome the coming of the Lord. The word of God invites us to turn our gaze towards the mystery of the Incarnation of the Son of God, of the One who is sent by the Father "for us and for our salvation," as we say in the Creed. And within the mystery of Christ's mission, we are also called to reflect on the mission of the Virgin Mary. Mary is a model for all believers in bringing Christ to others. Three points are important in our missionary spiritual journey - starting with a key phrase in the second reading as follows:
1. "Behold, I come to do your will, O God." In his inspired imagination, the sacred author suggests, in a mystical way, that these are the very first words that Christ, the Son of God, pronounces at the moment of his "coming into the world", that is, at the moment of his incarnation. And this will be precisely what Christ re-affirms repeatedly in his earthly life and ministry. We recall how, during the encounter with the Samaritan woman, Jesus puts the disciples at ease. They were worried about the physical hunger of their Master. He tells them: "My food is to do the will of the one who sent me and to finish his work" (Jn 4:34). In the Discourse of the Living Bread, He clarifies his own mission: "I came down from heaven not to do my own will but the will of the one who sent me." (Jn 6:38). Finally, in the agony of Gethsemane before his passion and death, Jesus struggled with his whole being, with sweat and blood, to be faithful to the one mission of his life: to do the will of the Father who sent him.
In that spiritual battle of all battles, He uttered touching words every disciple of His should always remember with devotion: "Abba, Father, all things are possible to you. Take this cup away from me, but not what I will but what you will" (Mk 14:36).
As we recall and reflect on the coming of Jesus and on his life, we too, as his missionary disciples, are called to reflect on, and to respond sincerely to a simple question: Whose will are we following in our lives? Ours or God's? In the Lord's Prayer, we say "your will be done on earth as it is in heaven." Do we do his will in our lives? At this stage, someone might ask: "But I, who am a poor mortal with so many doubts and uncertainties, how can I clearly discern what God wants from me, and for me, in life and at this very moment?"

2. The teaching of St. Francis of Assisi is particularly enlightening when he comments on the Our Father:
Your will be done on earth as in heaven: That we may love You with our whole heart by always thinking of You, with our whole soul by always desiring You, with our whole mind by always directing all our intentions to You, and by seeking Your glory in everything, with all our whole strength by exerting all our energies and affections of body and soul in the service of Your love and of nothing else; and we may love our neighbor as ourselves by drawing them all to Your love with our whole strength, by rejoicing in the good of others as in our own, by suffering with others at their misfortunes, and by giving offense to no one.
In other words, the will of God for me, in every moment of life, is that I love him with all my being and I love my neighbor as I love myself. This means that God's will for us, as St. Francis suggests, is always and in every case, irrespective of age, state of life, vocation and profession, love for him and for our neighbour. This implies first, a "drawing them all with our whole strength" to God's love. God wants from us this our twofold love, in everything and above everything else, in and above every sacrifice, every good work. He explicitly asks, "I desire love, not sacrifice," (cf. 1Sm 15:22; Hos 6:6; Mt 12:7) because He loved us first. Therefore, our life's mission is always that of love, which draws everyone to the love of God in Christ. It is love's mission that St. Therese of Lisieux, patroness of the missions, fulfilled and which she dreamed of continuing even from Heaven. At this point, questions may arise in each of us: Am I doing the will of God? Do I feel in me the impulse of Christ's love to bring it to others and to lead others to him? As Saint Paul the Apostle once said: "For the love of Christ impels us" (to do so). (2Cor 5:14)
3. In this context, we can see the profound meaning of Mary's action, described at the beginning of today's Gospel: "Mary set out and traveled to the hill country in haste." Why the rush? Perhaps because Mary was keen to verify the information given by the angel on Elizabeth's pregnancy? She was curious, but never doubtful, because Mary was the one "who believed," as emphasized subsequently. Perhaps, she wanted to help her pregnant cousin in her old age. However, there were many servants in the house of Zechariah, belonging to the priestly class of that time. So, the main force that pushed Mary to "set out […] in haste," must be seen and interpreted in the light of her response to the message of the angel: "Behold, I am the handmaid of the Lord. May it be done to me according to your word" (Lk 1:38). The word concerns not only that moment when Mary welcomed in her womb the Son of God, but also her whole life's mission of seeking and accepting God's will for her. Expressed her own words, let it be done to me "according to your will." And like Christ, mystically affirming "Behold, I come to do your will," is sent by the Father to mission in the world, Mary, mother of Christ, after her "Behold I am...," is "sent" with her Son to everyone, starting with the first visit to Elizabeth and John the Baptist in her womb.
Thus, Mary's haste is an expression of her readiness, solicitude, and joy in fulfilling the mission entrusted to her. She sets out on a journey to share joyfully with others the "great things" of the salvation that Almighty God had begun for everyone in her and in Elizabeth. However, we should not imagine that the "journey" of Mary's mission from Nazareth to the "hill country" of Judea was easy for her as a young pregnant woman. Quite the opposite! This would involve a few days on foot or on a donkey, and the roads were certainly not levelled out. She risked meeting robbers on the way, something very common in those days (cf. Jesus' parable of the Good Samaritan). But all these challenges were eclipsed by the joy that Mary had inside her and that she wanted to share. For this reason, Saint Luke resists describing the journey itself. He focusses our attention on the joyful meeting between two mothers, with the evocative image of "the infant [who] leaped for joy" in Elizabeth's womb at the greeting of Mary. And so, we encounter the theological focus of the story: Mary, who carries Jesus in her womb, fills Elizabeth and her child with joy, and this happens even just with a simple greeting from her. Mission accomplished!
Mary's journey symbolically becomes the mission that all missionary disciples of Christ, are called to as Christmas approaches: to set out and go "in haste" with Jesus in our hearts towards those near and far, to instill in everyone holy joy and peace, which only God can give with his presence. We are celled to do this despite all the difficulties, adversities, and sufferings that we meet along the way. The joy we all carry within ourselves to share is greater than all the problems we are facing. Mary, mother of Christ, experienced all this on her life's journey, and therefore she certainly understands and accompanies us in our mission. Ultimately, this mission is the same as Mary's and it is the participation in Christ's mission that brings God's peace and salvation to the world. May every Christian renew their zeal for this mission by repeating, like Mary, the words of Christ to God the Father on coming into the world: "Behold, I come to do your will, O God." We ask for the intercession of Mary, mother of Christ and our mother, with the words of Pope Francis:
Mary, Virgin and Mother,
you who, moved by the Holy Spirit,
welcomed the Word of life
in the depths of your humble faith:
as you gave yourself completely to the Eternal One,
help us to say our own "yes"
to the urgent call, as pressing as ever,
to proclaim the good news of Jesus.
Filled with Christ's presence,
you brought joy to John the Baptist,
making him exult in the womb of his mother.
Brimming over with joy,
you sang of the great things done by God.
Standing at the foot of the cross
with unyielding faith,
you received the joyful comfort of the resurrection,
and joined the disciples in awaiting the Spirit
so that the evangelizing Church might be born.
Obtain for us now a new ardor born of the resurrection,
that we may bring to all the Gospel of life
which triumphs over death.
Give us a holy courage to seek new paths,
that the gift of unfading beauty
may reach every man and woman.
[…] Mother of the living Gospel,
wellspring of happiness for God's little ones,
pray for us.
Amen. Alleluia!
(Pope Francis, Apostolic Exhortation Evangelii Gaudium, n. 288)