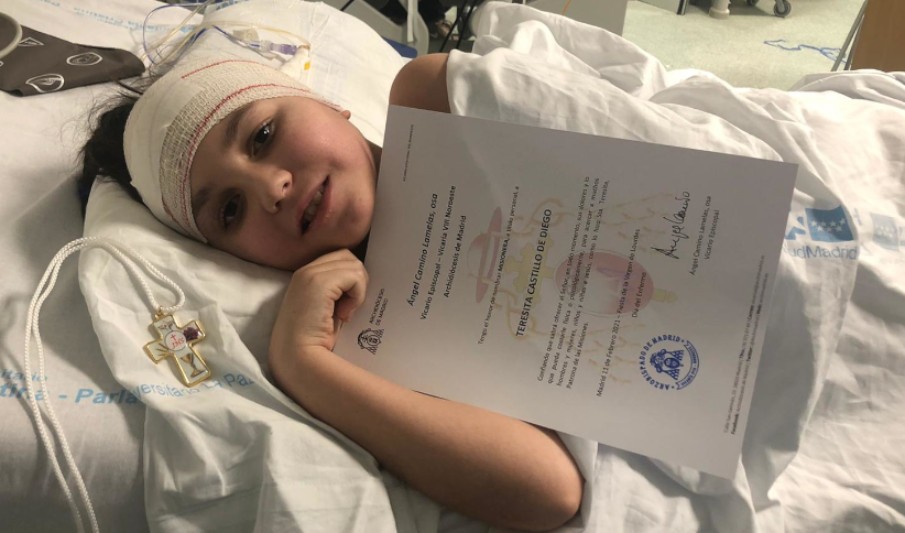 Teresita, the little girl who became a missionary before opening her eyes to Heaven
In the message for the XXIX World Day of the Sick, Pope Francis writes: «Sickness raises the question of life's meaning, which we bring before God in faith. In seeking a new and deeper direction in our lives, we may not find an immediate answer. Nor are our relatives and friends always able to help us in this demanding quest». These words are more timely than ever for the earthly story of Teresita, a ten-year-old Spanish girl who died a few days ago. She was seriously ill, but she had a great desire: to become a missionary. Teresita had the strength to say this to the episcopal vicar of the Archdiocese of Madrid, Father Ángel Camino Lamela OSA, on 11 February, during a visit to the sick.
Teresita also confided to the Vicar to pray so that many children may encounter Jesus in their life. The priest administered the Anointing of the Sick, gave her communion and the apostolic blessing of Pope Francis and then returned in the afternoon of the same day in the intensive care unit and gave her the document relating to her appointment and the missionary cross, which the little girl wanted to be placed on her bed and took it with her when she went to the operating room.
On the same day her aunt received a voice message from the little girl that the Vicar listened to after her funeral; Teresita in a tired, but soft voice said: «Hello aunt, I am telling you something very important, this morning after receiving the Anointing of the Sick and Communion, the Vicar of Madrid made me a missionary: I am already a missionary».
Teresita fell asleep awaiting her Resurrection while reciting the rosary with her parents on Sunday, 7 March.
Interview with Teresita on February 13, 2021 during her hospital stay:
Why do you want to be a missionary?
So I am closer to Jesus and I feel more holy. I want to bring Jesus to others, to the children who do not know him, so that they go to heaven happily ever after.
What does it mean to be a missionary?
Lead people to heaven.
What do you do as a missionary?
Always talk about Jesus and give joy. I offered these days of my illness for people: for some who are sick, for priests ...
What would you tell children to encourage them to be missionaries?
To be happy, to be Jesus' friends and to always be with him.
For further information click here.