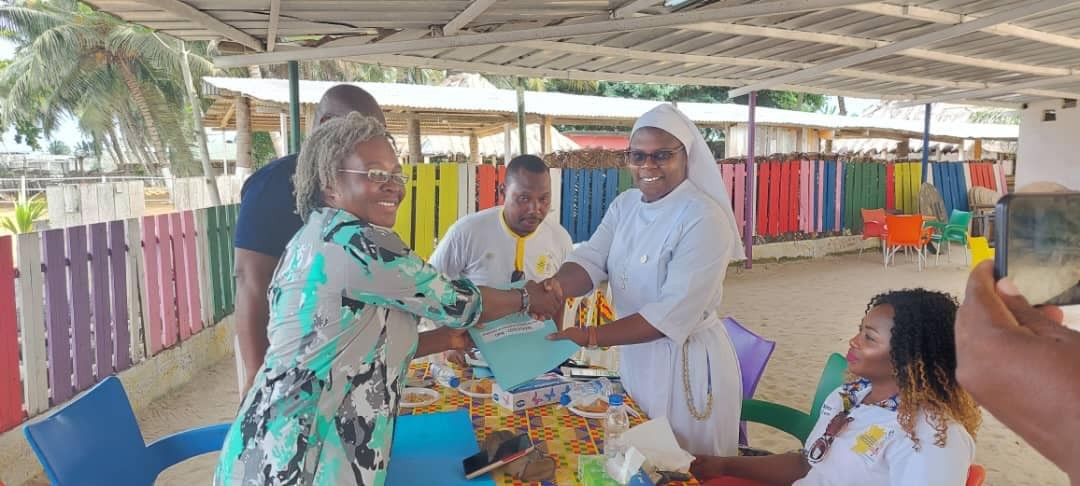 Sister Laurence Béblaï, new national secretary of the Holy Childhood in Ivory Coast
"It is with joy that I welcome what has been entrusted to me; to be national secretary of the Holy Childhood is not given to everyone, so I thank the Lord", are the first words of Sister Laurence Béblaï, new head of the Holy Childhood in Ivory Coast.
The nun of the Institute of the Sisters of Our Lady of the Incarnation, in her speech at the end of the handover ceremony between her and Sister Gisèle N'Guessan, said she confides in God to succeed in this new mission.
"Mission is never easy, but we manage to carry it out with the grace and with the help of God ... this work is truly in line with my formation", stressed Sister Laurence.
For her part, Sister Gisèle N'Guessan, after these three years spent as head of the secretariat of the Holy Childhood of the Pontifical Mission Societies in Ivory Coast, her "love for one's neighbor and for God" is what is most at heart.
She took the opportunity to present to the newly-elected national secretary of Holy Childhood two challenges to help children to be disciples of Christ in the Church: "the challenges of missionary formation and universal solidarity, to ensure that the contribution of children in Ivory Coast to the Universal Solidarity Fund of the Society is considerable".
Father Jean Noel Gossou, national director of the PMS in the country, thanked Sister Gisèle for the work she did and invited Sister Laurence to continue her mission.
It should be remembered that, founded in 1843 by Msgr. Charles de Forbin Janson, the Society of the Holy Childhood is a tool that helps children to develop a spirit and a will for missionary action. Its slogan is: Children evangelize children, children pray for children, children help the children of the world.