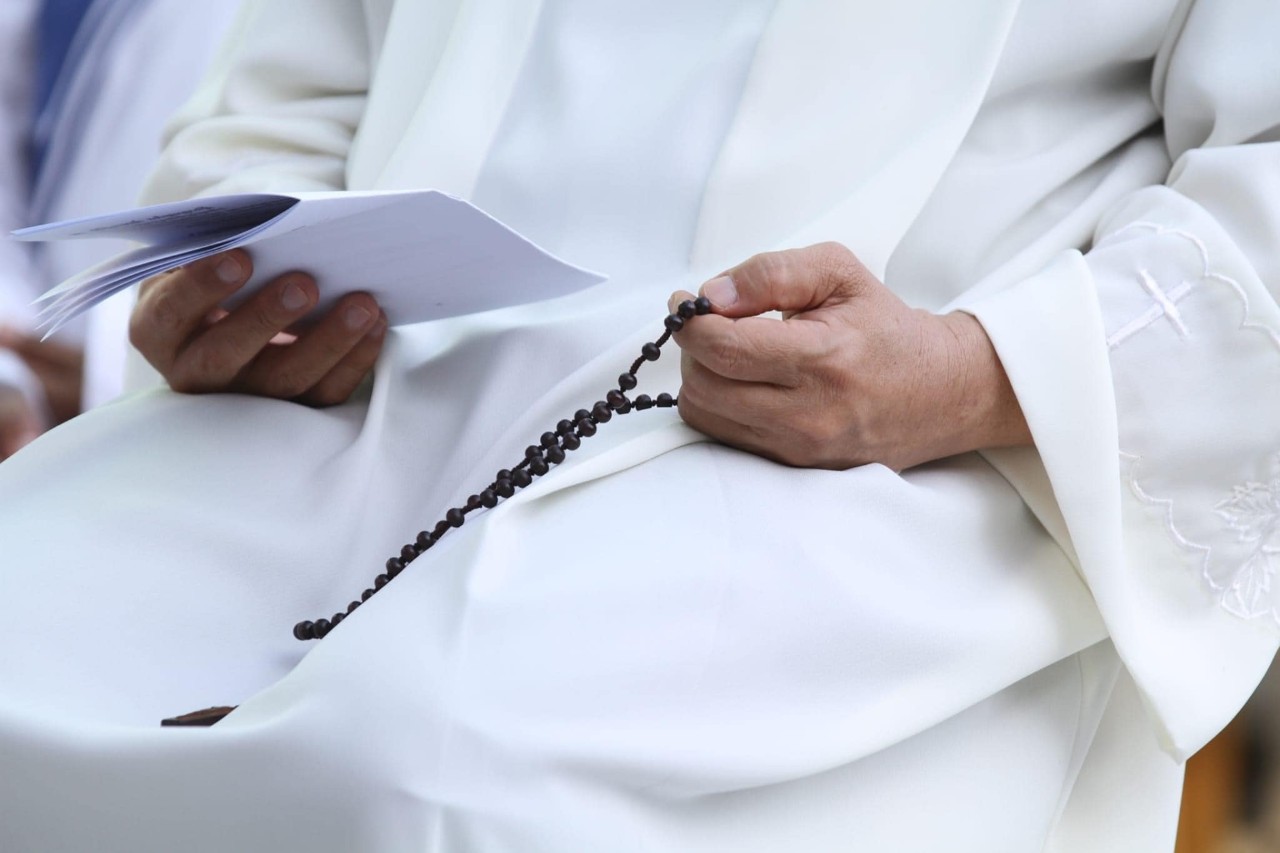 Sunday, October 29, 2023
For this Sunday, we offer the short meditation prepared by the PMS National Direction in Poland, which wrote, at our request, the liturgical commentaries for all the days of the missionary month of October 2023, sent by email to the PMS national directors for their use in missionary animation. I take the opportunity to thank them again for this text (with much gratitude to the translators). The PMU has added the Useful Points to Consider.
XXX Week of Ordinary Time - Year A
Ex 22:20-26;
Ps 17;
1Th 1:5-10;
Mt 22:34-40
God cares for every man and woman. He cares deeply for each one of us. He harms no one and especially defends the weakest and those who lack something: widows, orphans, the poor, foreigners. No human being is ever indifferent to God. However, it is hard to believe this when we look at the world around us with so much war, suffering, disease, and violence. Some people ask, "Why does God allow this?" But is it God who allows it or is it man who allows himself too much? It is not God's fault if men do not listen and do not want to live as He asks. God gave us the commandments so that we can discern and choose what is good and what is bad for us; what helps us and what destroys us. But for centuries men have been testing God, doing what they want, deciding for themselves how they want to live, and then, when it all falls apart and they are really very sick, they ask God for help. It's like someone continually breaking the traffic laws, going against the grain and at excessive speed, but then blaming others for having an accident.
St. Paul praises the Thessalonians for being converted. They began to obey the living and true God and serve him. Through this attitude they accomplished extraordinary things. They became missionaries, witnesses of God and a model for all believers in Macedonia, Achaia and other parts of the world. This is true evangelization. In this way the baptismal duty of being disciple-missionaries is fulfilled. Christianity consists in listening with a sincere heart to God and his commandments, a faith so strong and deep that it does not need to say anything about Christ, to tell anything, because others, looking at us, see in us the whole living and true Gospel.
We listen... We believe... Let us try to be witnesses... Let us love God with all our heart, with all our soul and with all our mind.... Let us love our neighbor as ourselves.... In this is contained the whole Gospel.
Useful points to consider:
Catechism of the Catholic Church
2086 "The first commandment embraces faith, hope, and charity. When we say 'God' we confess a constant, unchangeable being, always the same, faithful and just, without any evil. It follows that we must necessarily accept his words and have complete faith in him and acknowledge his authority. He is almighty, merciful, and infinitely beneficent. Who could not place all hope in him? Who could not love him when contemplating the treasures of goodness and love he has poured out on us? Hence the formula God employs in the Scripture at the beginning and end of his commandments: 'I am the LORD.'"
2090 When God reveals Himself and calls him, man cannot fully respond to the divine love by his own powers. He must hope that God will give him the capacity to love Him in return and to act in conformity with the commandments of charity. Hope is the confident expectation of divine blessing and the beatific vision of God; it is also the fear of offending God's love and of incurring punishment.
Benedict XVI, Encyclical Letter to the Bishops Priests and Deacons Men and Women Religious and All the Lay Faithful on Christian Love, Deus Caritas Est
Love of God and love of neighbour
16. […] No one has ever seen God, so how could we love him? Moreover, love cannot be commanded; it is ultimately a feeling that is either there or not, nor can it be produced by the will. Scripture seems to reinforce the first objection when it states: "If anyone says, 'I love God,' and hates his brother, he is a liar; for he who does not love his brother whom he has seen, cannot love God whom he has not seen" (1 Jn 4:20). But this text hardly excludes the love of God as something impossible. On the contrary, the whole context of the passage quoted from the First Letter of John shows that such love is explicitly demanded. The unbreakable bond between love of God and love of neighbour is emphasized. One is so closely connected to the other that to say that we love God becomes a lie if we are closed to our neighbour or hate him altogether. Saint John's words should rather be interpreted to mean that love of neighbour is a path that leads to the encounter with God, and that closing our eyes to our neighbour also blinds us to God.
[...]
18. Love of neighbour is thus shown to be possible in the way proclaimed by the Bible, by Jesus. It consists in the very fact that, in God and with God, I love even the person whom I do not like or even know. This can only take place on the basis of an intimate encounter with God, an encounter which has become a communion of will, even affecting my feelings. Then I learn to look on this other person not simply with my eyes and my feelings, but from the perspective of Jesus Christ. His friend is my friend. Going beyond exterior appearances, I perceive in others an interior desire for a sign of love, of concern. This I can offer them not only through the organizations intended for such purposes, accepting it perhaps as a political necessity. Seeing with the eyes of Christ, I can give to others much more than their outward necessities; I can give them the look of love which they crave. Here we see the necessary interplay between love of God and love of neighbour which the First Letter of John speaks of with such insistence. If I have no contact whatsoever with God in my life, then I cannot see in the other anything more than the other, and I am incapable of seeing in him the image of God. But if in my life I fail completely to heed others, solely out of a desire to be "devout" and to perform my "religious duties", then my relationship with God will also grow arid. It becomes merely "proper", but loveless. Only my readiness to encounter my neighbour and to show him love makes me sensitive to God as well. Only if I serve my neighbour can my eyes be opened to what God does for me and how much he loves me. […]
Pope Francis, Angelus, Saint Peter's Square, Sunday, 25 October 2020
[…] In today's Gospel passage, once again, Jesus helps us go to the living and gushing wellspring of Love. And this wellspring is God himself, to be loved completely in a communion that nothing and no one can break. A communion that is a gift to be requested each day, but also a personal commitment not to let our lives become enslaved by the idols of the world. And the proof of our journey of conversion and holiness always consists in love of neighbour. This is the test: if I say "I love God" and do not love my neighbour, it does not work. The verification that I love God is that I love my neighbour. As long as there is a brother or sister to whom we close our hearts, we will still be far from being disciples as Jesus asks us. But his divine mercy does not allow us to be discouraged, but rather calls us to begin anew each day to live the Gospel consistently. […]