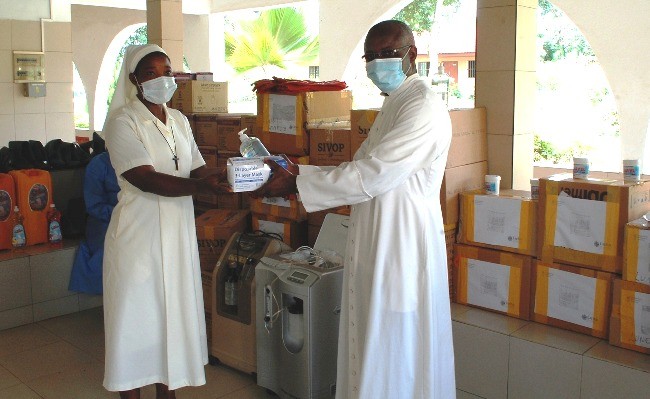 Emergency fund Covid-19: Aid to support the parish life of the Dioceses of Kpalimé (Togo), Gikongoro and Cyangugu (Rwanda), Djougou (Benin), the Apostolic Vicariate of Yurimaguas (Peru)
His Exc. Mgr. Alowonou, bishop of Kpalimé, Togo, expressed gratitude to the PMS for the contribution received from the Covid - 19 Emergency Fund established at the PMS by the will of Pope Francis. The sum received was intended for 74 catechists and 50 priests of the diocese, thus allowing them to meet the costs of water and electricity, and for priests to keep in touch with their community through alternative methods of communication.
Also His Exc. Mgr. Célestin Hakizimana, bishop of Gikongoro and Apostolic Administrator of Cyangugu, in Rwanda, sent the PMS a sincere thanks for the contribution received from the Covid-19 Emergency Fund. The diocese of Gikongoro was not spared from the pandemic and the imposed closure due to confinement in fact abandoned the parishes to themselves, depriving the clergy of possible sources of livelihood and severely limiting pastoral activities. In order to allow the reopening of the parishes with the necessary health equipment, a project was thus developed that provided for the sanitary equipment of the same and a sort of humanitarian assistance for priests, to allow them to continue in the pastoral commitment, concretized in the purchase of food and household material. Father Claude Gaga, of the diocesan direction of Catholic teaching of the diocese of Djougou, in Benin, is responsible of the project financed by the Covid-19 Emergency Fund.
The objective concerns the financing of the direction of Catholic teaching by paying part of the wages, thus preventing the risk of unemployment, and the distribution of hand washing kits.
Moving on to another continent, Maria Luisa Maduell, in charge of the Parish of St. Thomas of the Apostolic Vicariate of Yurimaguas, in Peru, expresses her sincere thanks for the help received which in this difficult period has allowed the members of the parish council to visit the villages in the jungle along the Paranapura stream. Covid-19 has caused many imbalances in people, from changes in the nervous system to high blood pressure to debilitation caused by fear or fever. At the end of the visit, which lasted a long time due to the environmental difficulties and the great distance of the inhabited centers, it was considered appropriate to hold a workshop with those responsible of some sectors, at a health level.
The meeting was very fruitful also because the participants recovered hope and overcame fear and at the end of the meeting each participant was given medicines and vitamins. Later a new visit to the communities was made.