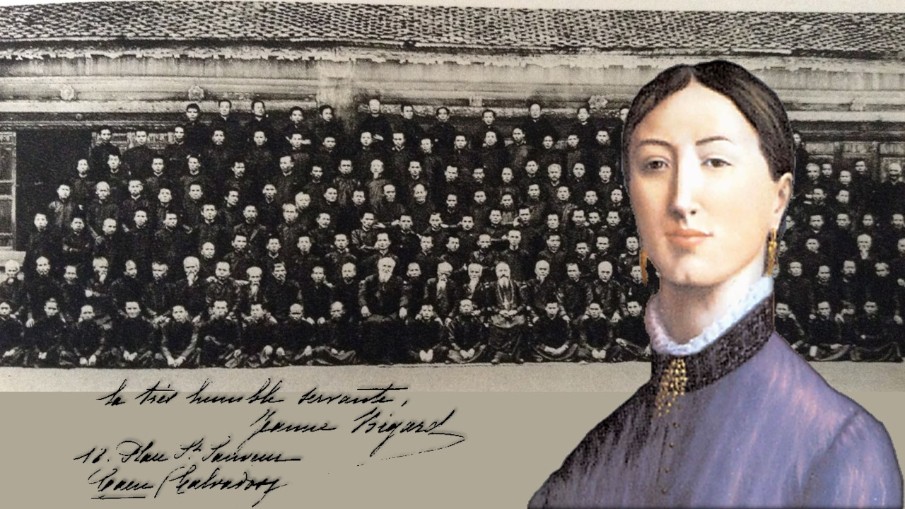 161° anniversary of the birth of Jeanne Bigard
Jeanne Bigard was born in Normandy of a well-to-do family on 8 December 1859.
With her mother Stéphanie she shares every commitment and sacrifice, especially in the missionary field. Between 1889 and 1896, Jeanne gave form to the Society of St. Peter the Apostle which is particularly concerned with one of the most urgent necessities for the progress of evangelization: the education and formation of local Clergy through the construction and maintenance of seminaries in Mission lands up to the priesthood and to manufacture, for the pure love of God and without any remuneration, the sacred vestments and linens for the ordinands, without forgetting to unite the sacred vessels necessary for the celebration of the Mass and the administration of the sacraments.
On 12 July 1895, the Holy Father, Leo XIII grants the apostolic blessing to the Society of St. Peter and its foundresses and members. In 1922, the Society became Pontifical Society.
After the death of her mother Stephanie, on 5 January 1903, Jeanne falls into a state of deep depression which will transform her life into a painful Calvary. Aware of her situation, she entrusts the Society to the Franciscan Missionaries of Mary in Fribourg. After being admitted several times to various hospitals, first in a religious institute and then in a Parisian clinic (1905), and a deterioration of her state of mental health, Jeanne is taken to the sisters of St Joseph in Alençon where she dies on 18 April 1934.