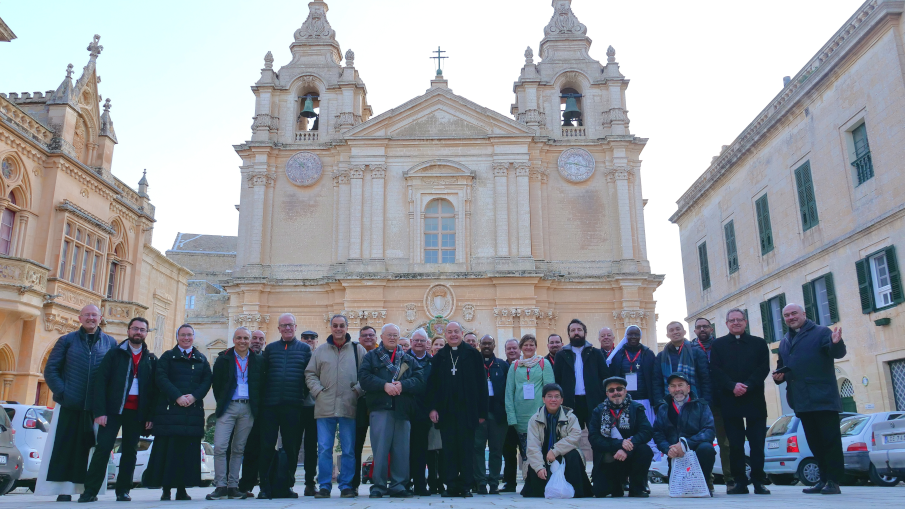 "A spirit of dialogue, inspired by the values of the Gospel" - Continental Meeting of PMS National Directors in Malta
The National Directors of the Pontifical Mission Societies in Europe gathered at the Archbishop's Major Seminary in Malta for their continental meeting during the week of February 13-17, 2023. All but three National Directions were represented to pray, reflect and present the many and wonderful initiatives undertaken for the promotion and animation of a missionary spirit in the hearts of the baptised in the ancient Christian continent. The meeting also involved visiting and reflecting on the history of Malta, a country steeped in Christian history with a population decidedly Catholic since the time of St. Paul's unexpected landing on the island to the present day.
The Charism received from Blessed Pauline and relaunched by Blessed Paolo Manna was a central motif that animated the meeting that focused on how best we can re-ignite the flame of faith and the desire to attract others to Christ, his Good News and to Church he established for the salvation of all. Many new initiatives like the Blessed Pauline prize for young people who express a desire to offer a few months or even a year for work in a given mission.
The PMS President, Msgr. Emilio Nappa, addressed the Assembly in a videoconference from Rome, reflecting on the journey for the present and future of the PMS summarized in three key words: charism, evangelization, and synodality. The participants also heard inspiring words on St. Paul and mission in light of the New Testament and Pope Francis' recent Message for World Mission Sunday 2023, from the General Secretary of the Pontifical Missionary Union, Fr. Rev. Dinh Anh Nhue Nguyen, O.F.M. Conv. The General Secretary of the Pontifical Mission Society for the Propagation of the Faith, Fr. Tadeusz Nowak, OMI also shared some reflections on the nature of our charism and importance of the task that lies before us.
The atmosphere was both joyful and lively with Mons. Valentino Borg offering magnificent hospitality and personal care for each and every participant. The group was blessed by the presence of Most Rev. Anthony Teuma, Bishop of Gozo, who presided a solemn celebration of the Eucharist for the participants and offered an inspiring homily for the participants at the beautiful Marian shrine of Ta'Pinu. Later on the same day the new Apostolic Nuncio in Malta, Most Rev. Savio Hon Tai Fai, SDB visited and dined with the group, which included many volunteers and collaborators of the National Direction in Malta.
All who participated expressed their gratitude for the hospitality received and the communion of prayer and sharing that was experienced.
Father Tadeusz J. Nowak, OMI, General Secretary of the Pontifical Mission Society for the Propagation of the Faith