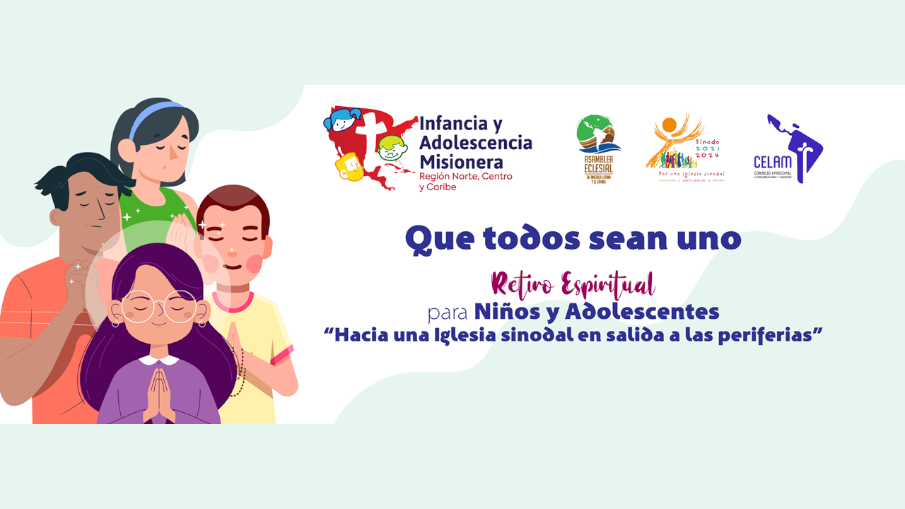 Spiritual Retreat for Missionary Children and Adolescents of America
The Missionary Childhood and Adolescence Work of the North, Central and Caribbean region of America have organized, on Saturday, March 25, a spiritual Retreat on its Zoom platform for children and adolescents. It will be a space for prayer and reflection with children and adolescents from various countries.
The Missionary Childhood and Adolescence team will be in charge of directing this space, in which pastoral agents for childhood, the family, animators, catechists, educators linked to childhood and their formation in faith may also participate.
The dynamics will be like this: The selected children will direct moments of spirituality together with their trainers through zoom. A delegation from Peru will be in charge of making songs and animation, while accessing the platform.
Father Cristóbal Zavala, director of the Pontifical Mission Societies in El Salvador, will make an introduction, while Sister Yesenia Quintero, national secretary of Missionary Childhood Venezuela, will be in charge of explaining what the role of Missionary Childhood will be in a Synodal Church.
Then will come moments of reading, reflection, prayer and adoration until reaching the final requests with their respective commitments. A duration of 1 hour and a half has been established.
Schedule:
3:00 pm. from Mexico, Guatemala, El Salvador, Honduras, Nicaragua, Costa Rica
4:00 p.m. from Panama, Colombia, Ecuador, Peru
5:00 pm. from Puerto Rico, Venezuela, Cuba, Canada, Bolivia, Paraguay
6:00 pm. from Chile, Argentina, Ecuador, Brazil, Uruguay
Join the Zoom meeting: https://us06web.zoom.us/j/85269007640
Meeting ID: 852 6900 7640
We are waiting for you!
Of the children and adolescents of the world, always friends!
(You can also follow him on the social networks of Celam FB celam.oficial and YT Celam TV as well as on FB asambleaeclesial and YT Asamblea Ecclesial)