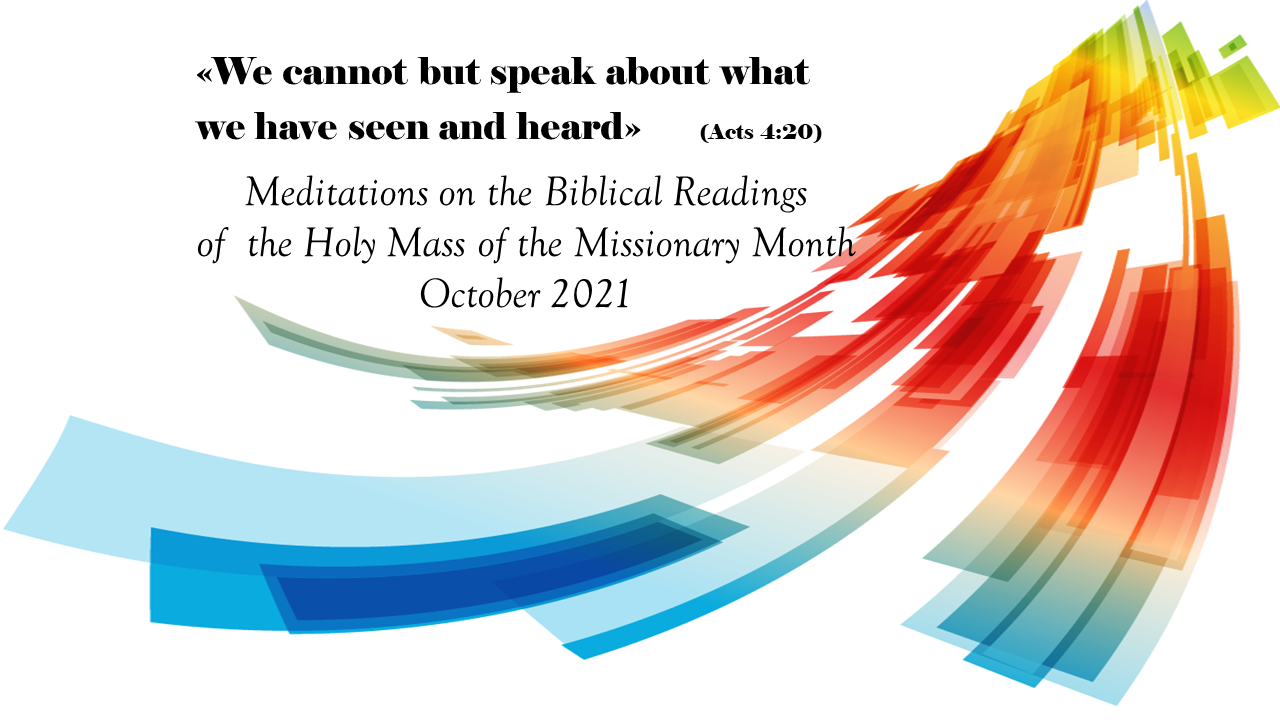 October 27, 2021 - Wednesday, 30th Week in Ordinary Time
Rom 8:26-30
Ps 13
Lk 13:22-30
The Holy Spirit guides our poor and fragile being. The Spirit illumines our prayer, completes it, and even replaces it when it is unsuitably shapeless, because the Spirit intercedes for the holy ones according to God's will. Our whole life is also guided by the Holy Spirit, whether we know it or not, because we know that all things work for good for those who love God, who are called according to his purpose.
Brothers and sisters:
The Spirit comes to the aid of our weakness; for we do not know how to pray as we ought, but the Spirit himself intercedes with inexpressible groanings. And the one who searches hearts knows what is the intention of the Spirit, because he intercedes for the holy ones according to God's will.
We know that all things work for good for those who love God, who are called according to his purpose. For those he foreknew he also predestined to be conformed to the image of his Son, so that he might be the firstborn among many brothers. And those he predestined he also called; and those he called he also justified; and those he justified he also glorified.
St. Paul's grandiose vision, full of trust and hope, is also foreseen and sung about by the Psalmist, who prays for life and salvation. It was especially in difficult moments that he needed to believe in God's goodness: when he faltered in front of his adversaries… It was in those painful moments that it was necessary to trust in the Lord's mercy and not in one's own. But the person praying has obtained this grace, and says: "I trusted in your mercy", therefore his heart can rejoice and his mouth can sing to the Lord who has been good to him:
Look, answer me, O Lord, my God! Give light to my eyes that I may not sleep in death lest my enemy say, "I have overcome him"; lest my foes rejoice at my downfall. Though I trusted in your mercy, Let my heart rejoice in your salvation; let me sing of the Lord, "He has been good to me."
The Gospel passage would seem to restrict the Lord's mercy and the possibility of salvation, widely open also to repentant sinners, but this is not the case. Jesus' reproach is addressed to those who calculate or reduce salvation to their own narrow concepts, to those who claim to be saved alone, to those who exclude categories and people, to those who do not trust in him despite having eaten and drunk in his presence and having listened to his teaching, in short, to those who have not understood the Gospel of mercy because they would rather cling to their own convictions, interpretations and habits.
Jesus is the door, but this door - large and always open to all - becomes very narrow only for those who cannot enter it for lack of humility:
Jesus passed through towns and villages, teaching as he went and making his way to Jerusalem. Someone asked him, "Lord, will only a few people be saved?" He answered them, "Strive to enter through the narrow gate, for many, I tell you, will attempt to enter but will not be strong enough. After the master of the house has arisen and locked the door, then will you stand outside knocking and saying, 'Lord, open the door for us.' He will say to you in reply, 'I do not know where you are from.' And you will say, 'We ate and drank in your company and you taught in our streets.' Then he will say to you, 'I do not know where you are from. Depart from me, all you evildoers!' And there will be wailing and grinding of teeth when you see Abraham, Isaac, and Jacob and all the prophets in the Kingdom of God and you yourselves cast out.
And people will come from the east and the west and from the north and the south and will recline at table in the Kingdom of God. For behold, some are last who will be first, and some are first who will be last."
It is extremely consoling that Jesus' words continue to be fulfilled in every age: "And people will come from the east and the west and from the north and the south and will recline at table in the Kingdom of God. For behold, some are last who will be first, and some are first who will be last." The following text demonstrates this very clearly:
Canonization of the Uganda martyrs: St. Peter's Basilica, Sunday October 18, 1964
Homily of St. Paul VI
"Who are these, wearing white robes, and where did they come from?" (Rev 7:13b). […]
Who are they? They are Africans, true Africans, of color, race and culture, worthy exponents of the fabulous Bantu and Nilotic populations explored in the last century by the audacity of Stanley and Livingstone, established in the region of East Africa, which is called the Great Lakes […]. Their homeland was a British protectorate when they lived there […], a field of missionary apostolate that first welcomed the English ministers of the Anglican confession, and two years later, the French-speaking Catholic missionaries called the White Fathers, missionaries of Africa, sons of the famous and courageous Cardinal Lavigerie (1825-1892). who not only Africa, but civilization itself must remember among the most illustrious and providential men. The White Fathers introduced Catholicism in Uganda, preaching the Gospel in friendly competition with the Anglican missionaries, and it was the White Fathers who had the happiness - paid for with incalculable risks and hardships - to train these martyrs for Christ, those whom we honor today as heroes and brothers in the faith and invoke as protectors in heaven. Yes, they are African and they are martyrs. "These are the ones - continues the Holy Scriptures - who have survived the time of great distress; they have washed their robes and made them white in the blood of the Lamb. For this reason they stand before God's throne…" (Rev. 7:14-15).
Each once we pronounce the word "martyrs" in the sense it has in Christian hagiography, a horrible and wonderful drama should come to mind: horrible because of the injustice, armed with authority and cruelty, that causes the drama; horrible as well because of the blood that flows and the pain of the flesh that suffers, mercilessly subjected to death; wonderful for the innocence that physically yields to torture with docility and without defending itself, happy and proud to be able to witness to the invincible truth of a faith that is fused with human life: life dies, faith lives. Strength against strength, the first is defeated by winning; the other triumphs by losing.
Martyrdom is a drama, a terrible and evocative drama, whose unjust and depraved violence is forgotten right where it took place, while always remaining in the memory of the ages, shining and lovable, the meekness which was able to make of its own oblation a sacrifice, a holocaust, a supreme act of love and fidelity to Christ, an example, a testimony, a perennial message for present and future men. This is martyrdom […].
The African martyrs add another page to the martyrology – the Church's roll of honor – an occasion both of mourning and of joy. This is a page worthy in every way to be added to the annals of that Africa of earlier which we, living in this era and being men of little faith, never expected to be repeated. In earlier times there occurred those famous deeds, so moving to the spirit, of the martyrs of Scilli, of Carthage, and of that "white robed army" of Utica commemorated by Saint Augustine and Prudentius; of the martyrs of Egypt so highly praised by Saint John Chrysostom, and of the martyrs of the Vandal persecution. Who would have thought that in our days we should have witnessed events as heroic and glorious? Who could have predicted to the famous African confessors and martyrs such as Cyprian, Felicity, Perpetua and – the greatest of all – Augustine, that we would one day add names so dear to us as Charles Lwanga and Matthias Mulumba Kalemba and their 20 companions? Nor must we forget those members of the Anglican Church who also died for the name of Christ. […]
The story of the martyrs we are venerating refers to twenty-two men, for the most part young, who each would deserve special praise; they should also be joined by a double list of other victims of this ferocious persecution: one of Catholics - neophytes and catechumens - and another of Anglicans, sacrificed for Christ […]. Few narratives of martyrs' acts have been documented like this. Here there is no legend, but the chronicle of a faithfully described "Passio martyrum". Whoever reads it contemplates it; whoever contemplates it is frightened and who is frightened, cries. In the end, all that remains is to conclude: Yes, they are martyrs: "These are they who have come out of the great tribulation; they have washed their robes and made them white in the blood of the Lamb. Therefore are they before the throne of God" (Rev 7:14-15)
This collective martyrdom presents us with a marvelous Christian phenomenon. […] Christianity finds in Africa a particular predisposition, which we do not hesitate to consider a mystery of God, an indigenous vocation, a historical promise. 'Africa is the land of the Gospel, Africa is a new homeland of Christ. The upright and logical simplicity and the inflexible fidelity of these young African Christians make us sure of it and demonstrate it to us; on the one hand, faith, a gift from God, and the human capacity for progress; on the other hand they are united with a prodigious correspondence. The fact that the evangelical seed finds an obstacle in the thorns of such wild ground causes pain, but it is not strange; but that the seed takes root and immediately flourishes, and is full of flowers because of the soil's goodness – this causes joy and admiration at the same time: it is the spiritual glory of the continent of black faces and white souls, which heralds a new civilization: the Christian civilization of Africa […].
Their testimony, for those who carefully listen to them at this decisive hour in African history, becomes a voice that calls out: a voice that seems to repeat, like a powerful echo, the mysterious invitation, heard during the night by St. Paul in a vision: "Adiuva nos", come and help us (Acts 16:9). These martyrs ask for help. Africa needs missionaries: in particular priests, doctors, teachers, nuns and nurses, generous souls, who help the young and thriving, yet needy, Catholic community, to grow in number and quality to become a people: the African people of God's Church.