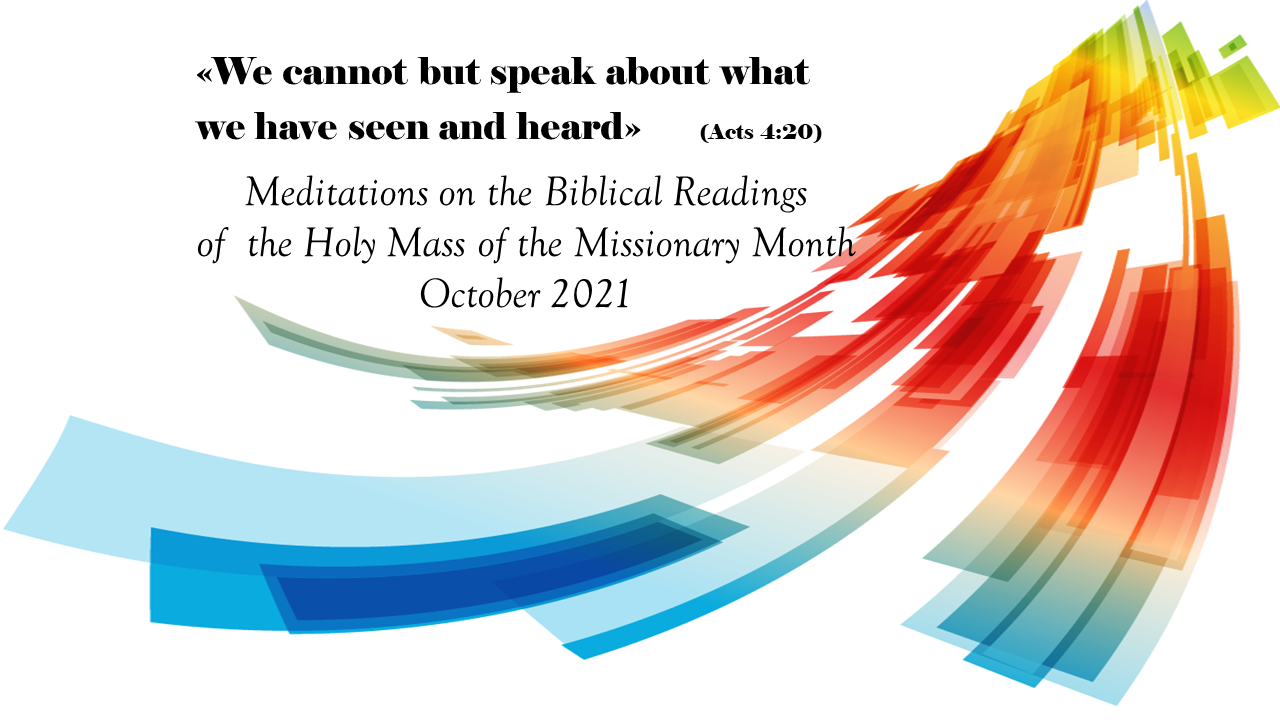 October 30, 2021 - Saturday, 30th Week in Ordinary Time
Rom 11:1-2a,11-12,25-29
Ps 94
Lk 14:1,7-11
In today's Eucharistic celebration, the first reading and the responsorial psalm exalt God's unfailing fidelity to his people. Chapter 9 of the letter to the Romans manifested the torment of St. Paul's heart: "I have great sorrow and constant anguish in my heart. For I could wish that I myself were accursed and separated from Christ for the sake of my brothers, my kin according to the flesh. They are Israelites; theirs the adoption, the glory, the covenants, the giving of the law, the worship, and the promises".
It is impossible that God would have abandoned them forever, Paul is very sure of this and reveals the mystery of Israel's obstinacy: if their refusal of Christ allowed the Gentiles to know salvation, Israel too will be saved when all peoples have received the gospel, because the gifts and the call of God are irrevocable.
Brothers and sisters:
I ask, then, has God rejected his people? Of course not! For I too am a child of Israel, a descendant of Abraham, of the tribe of Benjamin. God has not rejected his people whom he foreknew. Do you not know what the Scripture says about Elijah, how he pleads with God against Israel?
Hence I ask, did they stumble so as to fall? Of course not! But through their transgression salvation has come to the Gentiles, so as to make them jealous. Now if their transgression is enrichment for the world, and if their diminished number is enrichment for the Gentiles, how much more their full number.
I do not want you to be unaware of this mystery, brothers and sisters, so that you will not become wise in your own estimation: a hardening has come upon Israel in part, until the full number of the Gentiles comes in, and thus all Israel will be saved, as it is written: The deliverer will come out of Zion, he will turn away godlessness from Jacob; and this is my covenant with them when I take away their sins.
In respect to the Gospel, they are enemies on your account; but in respect to election, they are beloved because of the patriarch. For the gifts and the call of God are irrevocable.
Yes, the Lord does not reject his people and does not abandon his inheritance. Even during the ancient covenant, how many times was God abandoned and betrayed! And how many times have each of us preferred our own idols to him! We thank the Lord because his fidelity has always sustained us.
The Lord will not abandon his people.
Blessed the man whom you instruct, O Lord, whom by your law you teach, giving him rest from evil days. For the Lord will not cast off his people, nor abandon his inheritance; but judgment shall again be with justice, and all the upright of heart shall follow it.
Were not the Lord my help, my soul would soon dwell in the silent grave. When I say, "My foot is slipping," your mercy, O Lord, sustains me.
If the epistle and the psalm proclaim God's fidelity, the Gospel, which speaks to us of humility, affirms this same fidelity in its own way: it is as if Christ were suggesting to us the way to overcome our incurable need to excel with advice full of wisdom:
On a sabbath Jesus went to dine at the home of one of the leading Pharisees, and the people there were observing him carefully. He told a parable to those who had been invited, noticing how they were choosing the places of honor at the table. "When you are invited by someone to a wedding banquet, do not recline at table in the place of honor.
A more distinguished guest than you may have been invited by him, and the host who invited both of you may approach you and say, 'Give your place to this man,' and then you would proceed with embarrassment to take the lowest place. Rather, when you are invited, go and take the lowest place so that when the host comes to you he may say, 'My friend, move up to a higher position.'
Then you will enjoy the esteem of your companions at the table. For everyone who exalts himself will be humbled, but the one who humbles himself will be exalted."
The Pharisees are watching Jesus to catch him in error, but it is Jesus who notices their need to put themselves first. The advice he gives them is not a cunning strategy, but a methodical education, revealing the Lord's patience and faithfulness.
St. Paul also underlines this:
Do nothing out of selfishness or out of vainglory; rather, humbly regard others as more important than yourselves. (Phil 2:3)
Shortly after, in fact, he explains:
Who, though he was in the form of God, did not regard equality with God something to be grasped. Rather, he emptied himself, taking the form of a slave, coming in human likeness; and found human in appearance, he humbled himself, becoming obedient to death, even death on a cross.
Because of this, God greatly exalted him and bestowed on him the name that is above every name, that at the name of Jesus every knee should bend, of those in heaven and on earth and under the earth, and every tongue confess that Jesus Christ is Lord, to the glory of God the Father." (Phil 2:6-11)
The only way to follow is the way of humility in order to be glorified by God's faithfulness. Jesus, who himself is the way, showed us this.
Among the many others who have walked the way of the Lord, preaching the Gospel with their lives, today we point out two great Peruvian saints, who lived in Lima at the same time: St. Martin of Porres and St. Rose of Lima.
Christ's humility and the joy in suffering, lived with love, shine in them. The veneration that has been paid to them over the centuries, not only in Latin America but throughout the world, is a clear testimony of how true the Gospel's final words are: "everyone who exalts himself will be humbled, but the one who humbles himself will be exalted". The inexhaustible charity of one and the loving penance of the other are the clearest proof of their hearts' desire: the saints longed that all may be saved and enjoy eternal happiness.
St. Martin did not leave behind any writings, but his life was a living gospel: in 1945 Pius XII proclaimed him patron of social justice. Martino was a mulatto, the natural son of a Spanish knight who had become impoverished and of a black ex-slave. He learned the trades of barber and herbalist. At the age of 15 he entered the Order of Dominican Friars as a "donor", assigned to the humblest material occupations. After his profession as a lay brother, he became a community nurse, dentist and phytotherapist for all kinds of diseases. Having become an expert in caring for the sick, he sometimes collected them in the streets and even took them to the convent, to his cell. To his prior, who had naturally forbidden him to do such things, Martin replied: "I did not know that the precept of obedience took precedence over that of charity". At a time when his community was suffering from economic problems, he offered himself to his prior to be sold as a slave. He taught Christian doctrine to blacks and Indians and, with the help of the rich in the city, he founded the Holy Cross kindergarten school to educate and assist orphans, the poor, and the homeless. He would have liked to go everywhere to make Christ known, especially to Asia and Japan, which he described perfectly, as if he had visited that distant country in person.
While Martin was still alive, people attributed to him miracles of prophecy, healing, extraordinary conversions, bilocation, and even of ubiquity. All Lima spoke of him as the "holy brother Martin". Upon his death, the entire city bade him their final farewell with a unanimous participation in his funeral.
St. Rose, Martin's contemporary, was a Dominican tertiary and undoubtedly knew her holy brother, although there is no documentation of their meetings.
Like St. Martin, she was confirmed by St. Turibius of Mogrovejo. The holy archbishop of Lima confirmed the girl with the name Rose, which was not her baptismal name but had been given to her by an Indian servant because of her extraordinary beauty. St. Turibius, however, completed Rose's name: Rose of Holy Mary.
Penitent, mystic, favored by visions, she also exercised works of mercy, just like St. Martin. She was full of compassion for the Indians, whose suffering she shared, and was allowed to set up a shelter to assist the poor, the needy, abandoned children and the elderly – especially of Indian origin – in the affluent maternal house in downtown Lima. She died at age 31, and throughout her short life loved the poor and abused Indians, considering them brothers. Rose is the first saint of the American continent: she was canonized by Clement X in 1671.
We here present one of her writings:
Our Lord and Savior lifted up His voice and said with incomparable majesty: "Let all men know that grace comes after tribulation. Let them know that without the burden of afflictions it is impossible to reach the height of grace. Comprehend that, in conformity to the increase in works, the measure of charisms justly increases. Let nobody deceive themselves: this is the only true stairway to paradise, and outside the Cross there is no road through which one may climb to Heaven." When I heard these words, a strong impetus came over me to place myself in the middle of the town square so that I might say in a loud voice to people of every age, sex, status and life condition: "Hear, O people; hear, all types of people: on behalf of Christ and with words taken from His own lips, I advise you: Grace is not acquired without suffering afflictions; one must perform good works and more good works so as to acquire the intimate participation of the divine nature, the glory of the children of God and the perfect beauty of the soul."
That same impetus urged me to proclaim the beauty of divine grace; it anguished me and made me sweat and yearn. It seemed like my soul could no longer be detained in the prison of the body, but that it had to break the prison and, free and alone, with more agility, it was to go throughout the world, giving a voice to this acclaim: "If only mortals would know how great is grace, how beautiful, how noble, how precious; how many riches it hides within itself, how many treasures, joys and delights! Without doubt they would employ all their diligence, goals and sleepless nights in searching for pains and afflictions. They would wander throughout the world in search of annoyances, infirmities and torments, instead of good adventures, in order to attain the inestimable treasure of grace. This is the reward and the ultimate goal of constancy and suffering. No one would complain about his Cross or her labors that luck may hand them, if they would come to know the scales on which they are weighed so as to be distributed to men."
(To Doctor Castillo; ed. L. Getino, La Patrona dell'America, Madrid 1928, pp. 54-55 Translated from the Spanish Office of the Hours by Jan Paul von Wendt)
The remains of these two great missionaries, which never left their city, rest together in the Basilica of the Holy Rosary of the Dominican convent in Lima.