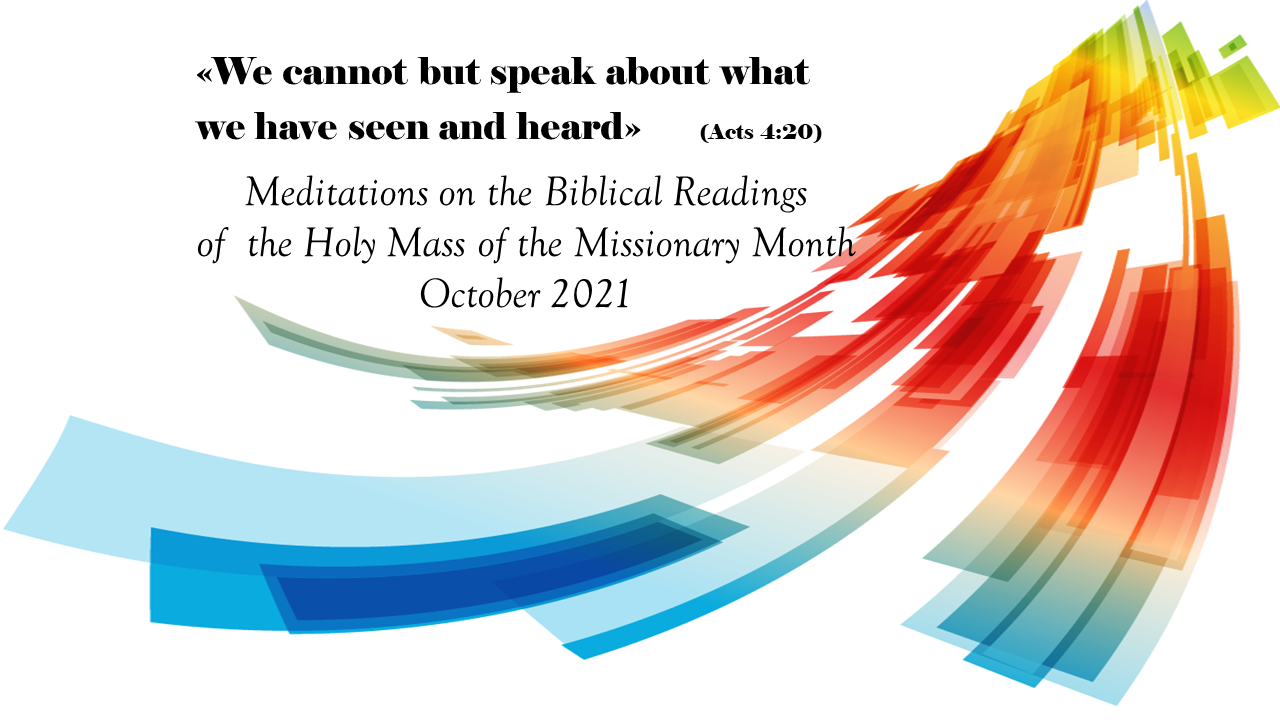 October 31, 2021 - Sunday, 31st Week in Ordinary Time
Dt 6:2-6
Ps 18
Heb 7:23-28
Mk 12:28b-34
On this Sunday, which closes out the Missionary Month, the texts of the Liturgy of the Word of Year B are kerygmatic, particularly suggestive and present a profound unity. In them the essentials of the faith are expressed. The first reading contains the Shema Israel, Israel's daily prayer, taken from Deuteronomy: Hear, O Israel! The Lord is our God, the Lord alone! Therefore, you shall love the Lord, your God, with all your heart, and with all your soul, and with all your strength. We Christians repeat it with love, knowing well that the Lord our God is truly unique, but not solitary, and we adore his unity in the Trinity of Persons:
Moses spoke to the people, saying: "Fear the Lord, your God, and keep, throughout the days of your lives, all his statutes and commandments which I enjoin on you, and thus have long life. Hear then, Israel, and be careful to observe them, that you may grow and prosper the more, in keeping with the promise of the Lord, the God of your fathers, to give you a land flowing with milk and honey.
"Hear, O Israel! The Lord is our God, the Lord alone! Therefore, you shall love the Lord, your God, with all your heart, and with all your soul, and with all your strength. Take to heart these words which I enjoin on you today."
In the responsorial psalm, love truly erupts from the whole heart, from the whole soul, with all the psalmist's might: God is everything in his life, the protector, the savior, the liberator, the defender, the one who grants him victory, the one who is always faithful:
I love you, O Lord, my strength, O Lord, my rock, my fortress, my deliverer. My God, my rock of refuge, my shield, the horn of my salvation, my stronghold! Praised be the Lord, I exclaim, and I am safe from my enemies. The Lord lives! And blessed be my rock!
Extolled be God my savior. You who gave great victories to your king and showed kindness to your anointed.
God already commanded us to love him with our whole being in the Old Testament, but this love is made possible only because he first loved us. He has always loved us and forever. Precisely because he loves us, he sent his Son, the Beloved, as mediator of the new covenant: Jesus is the measure of the Father's love.
Christ is the one mediator between God and men: "For there is one God. There is also one mediator between God and the human race, Christ Jesus, himself human, who gave himself as ransom for all. This was the testimony at the proper time. For this I was appointed preacher and apostle (I am speaking the truth, I am not lying), teacher of the Gentiles in faith and truth." (1 Tm 2:5-7; cf. Heb 4:14-16)
No one, therefore, can enter into communion with God except through Christ, by the working of the Holy Spirit. Christ's one, universal mediation, far from being an obstacle on the journey toward God, is the way established by God himself, a fact of which Christ is fully aware. Although participated forms of mediation of different kinds and degrees are not excluded, they acquire meaning and value only from Christ's own mediation, and they cannot be understood as parallel or complementary to his. (John Paul II, Redemptoris Missio 5, Vatican December 7, 1990)
Priest and victim, He has no need, as did the high priests, to offer sacrifices day after day, first for his own sins and then for those of the people; he did this once for all when he offered himself. Ancient mediations have been abolished: through his sacrifice, he is always able to save those who approach God through him:
Brothers and sisters:
The levitical priests were many because they were prevented by death from remaining in office, but Jesus, because he remains forever, has a priesthood that does not pass away.
Therefore, he is always able to save those who approach God through him, since he lives forever to make intercession for them.
It was fitting that we should have such a high priest: holy, innocent, undefiled, separated from sinners, higher than the heavens. He has no need, as did the high priests, to offer sacrifice day after day, first for his own sins and then for those of the people; he did that once for all when he offered himself. For the law appoints men subject to weakness to be high priests, but the word of the oath, which was taken after the law, appoints a son, who has been made perfect forever.
In the Gospel, Jesus intertwines love for God and love for neighbor, showing us that charity towards both is necessary to reach holiness. It is not only the fulfillment of norms, but requires living out true love, because God is Love.
One of the scribes came to Jesus and asked him, "Which is the first of all the commandments?" Jesus replied, "The first is this: Hear, O Israel! The Lord our God is Lord alone! You shall love the Lord your God with all your heart, with all your soul, with all your mind, and with all your strength. The second is this: You shall love your neighbor as yourself. There is no other commandment greater than these." The scribe said to him, "Well said, teacher. You are right in saying, 'He is One and there is no other than he.' And 'to love him with all your heart, with all your understanding, with all your strength, and to love your neighbor as yourself' is worth more than all burnt offerings and sacrifices." And when Jesus saw that he answered with understanding, he said to him, "You are not far from the kingdom of God." And no one dared to ask him any more questions.
Jesus praises the scribe who questioned him and showed wisdom and a sincere desire to follow the path of love. We know that this way is Christ, who has given us salvation. Only through imitating and conforming ourselves to him, can we rediscover his divine likeness and recognize the kingdom of God made manifest within us and in all those who become capable of sincere charity.
The Doctor of the Church Saint John of Avila, writing to Saint Teresa of Jesus - also a Doctor of the Church - does not need to waste many words in this respect. He writes: "Holiness consists only in humble love of God and neighbor" (September 12, 1568).
This is the mission of every Christian: to abandon selfishness (exaggerated love of oneself) and to let God who is Love himself shine through oneself and be recognized in daily conduct. If we allow ourselves to be attracted by God and live in his love amongst our brothers, we also attract others into this circuit of love. Just as faith and hope are communicated, so too - and above all - charity is communicated and attracts: it is missionary. The Lord calls some people to offer the first proclamation of the gospel of salvation, but he calls everyone to proclaim it through prayer and witness of life. This is love.
At the end of these brief ideas for meditation on the scriptural texts of the missionary month, we present the homily that Pope Francis gave during one of his daily Masses:
"Without witness and prayer, apostolic preaching is not possible"
"No one can come to me unless he is drawn by the Father" (Jn 6:4). Jesus recalls that even the prophets had prophesied that "they will all be taught by God". And God who draws us to the knowledge of the Son. Without this, no-one can know Jesus. Yes, one can study, also study the Bible, even know how He was born, what He did, all this, yes. But to know Him from within, to know the mystery of Christ, is only for those who are drawn to this by the Father. […]
And this - that no one can know Jesus without the Father having drawn him or her - (cf. Jn 6:44) - this is valid for our apostolate, for our apostolic mission as Christians.
I also think of the missions. "What do you go to do in the missions?" - "I go to convert people" - "But stop, you will never convert anyone! It will be the Father who attracts those hearts to acknowledge Jesus". Going to the missions is to go and bear witness to one's own faith. Without witness, you will do nothing. To go to the missions, and there are some really good missionaries, is not merely about building big structures and things, and stopping there. No, the structures must be testimonies. You can make a hospital structure, an educational structure of great perfection, of great development, but if it is without Christian witness, your work will not be a work of witness, a work of the true proclamation of Jesus: it will be a charitable institution, very good - very good! - but nothing more.
If I want to go to the missions, if I want to carry out the apostolate, I must go with the disposition that the Father draws people to Jesus, and must bear witness to this. Jesus Himself says it to Peter, when he professes that He is the Messiah: "Blessed are you Simon, because it was the Father who revealed this to you" (cf. Mt 16:17). It is the Father who draws us to him through our own witness. "I will do a lot of works here, there and everywhere, this and that", but without witness they are good things, but they are not the proclamation of the Gospel, there are not places that might give people knowledge of Jesus. Work and witness.
"But what can I do so that the Father will make it His business to attract people?" It is prayer. This is prayer for the missions: to pray that the Father will draw people towards Jesus. Witness and prayer, they go together. Without witness and prayer one cannot carry out apostolic preaching, one cannot proclaim. You will give a good moral sermon, but the Father will not have the possibility of drawing people to Jesus. And this is the center: this is the center of our apostolate, that the Father may attract the people to Jesus (cf. Jn 6:44). Our witness opens the doors of the people and our prayer opens the heart of the Father, so that it may attract people. Witness and prayer. And this is not only for the missions, it is also for our work as Christians. Do I truly bear witness to Christian life, with my style of life? Do I pray for the Father to draw people to Jesus?
This is the great rule for our apostolate, everywhere, and in a special way for the missions. To go to the missions is not to carry out proselytism. Once a woman - a good person, you could see she had good will - came up to me with two young people, a boy and a girl, and she said to me: "This boy, Father, was a protestant and I converted him; I convinced him. And this girl was…", I don't know, animist, I don't know what she said, "and I converted her". And the woman was good, good. But she was mistaken. I lost my patience a little and I said to her, "Listen, you haven't converted anyone; it was God who touched the heart of the people. And do not forget: witness, yes; proselytism, no". Let us ask the Lord for the grace to live our work with witness and prayer, so that He, the Father, may draw people to Jesus.
(Homily of His Holiness Pope Francis, Morning Mass in the chapel of the Domus Sanctae Marthae, April 30, 2020)