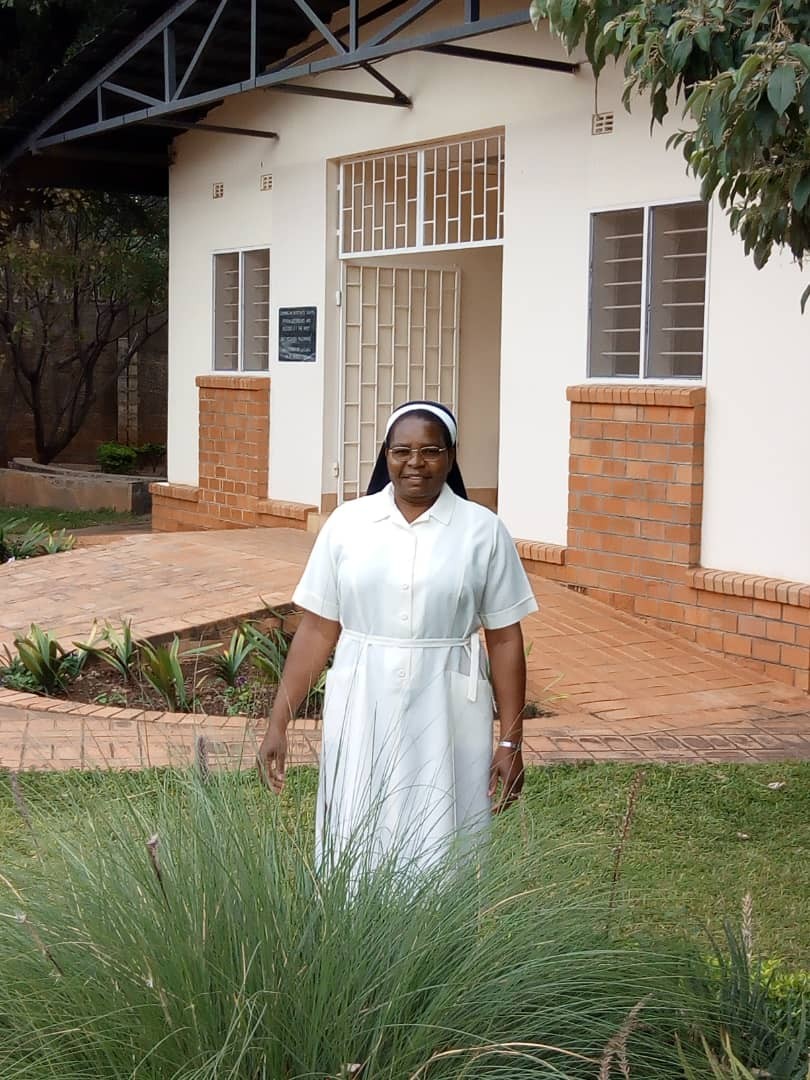 Zambia: the story of Sister Cloudina Mutizira and her collaboration with PMS
Sister Cloudina Mutizira, a Zimbabwean Dominican Missionary Sister of the Sacred Heart of, is currently the Novice Directress of the International Novitiate of her Congregation in Zambia. She was kind enough to share her story with us, especially her much appreciated collaboration with the Pontifical Mission Societies.
How was your vocation born?

I come from a Catholic family and l was inspired by my Aunt who is also a religious sister with the Daughter of Calvary sisters. Whenever she came home for holiday's l would admire her and I was touched by the way she would teach us to how to pray, singing church songs also her uniform, that is her habit. Since then at the age of 10, l would always tell her that l would like to be a sister. But my aunt would tell me that l was still too young and that l needed to grow. So she suggested that I join when l finish secondary school. That answer, which she gave me stayed with me until l had done my Ordinary Level Examinations and by then I was 17 years old. She then gave me an address to apply to the Dominican Sisters, which I did.
What attracted you in particular to the Dominican Sisters of the Sacred Heart of Jesus to whom you have belonged since 1988?
The Dominican Missionary Sisters of the Sacred Heart of Jesus is an International congregation with communities in six countries, that is England, Germany, Kenya, South America (Bogota), Zambia and Zimbabwe. I was attracted to the Dominican Sisters of the Sacred Heart of Jesus by their way of life, how they preach the word of God to his people, their Charism, which is Evangelization, and their motto VERITAS, which is the Truth.. The Dominican Sisters preach the word of God through teaching in Schools, giving first priority to the girl child, teaching the deaf child, nursing and giving hope to the sick in hospitals and taking care of homeless children. The kind of Apostolate they do really touched my heart and I was inspired to become one of the teachers. In addition to that, I also liked the fact that we are an International congregation. I can be sent anywhere on mission wherever there is need.
You have taught in some of your schools, including one of the schools for the deaf. Is being a teacher a mission?
Yes, l feel being a teacher is being on the mission of Christ. I say so because through my experience as a religious and as a teacher l do not just teach my subject, which l am specialized in, but l am there to impart Christian values to these young people, trying to make a difference, teaching and preaching Christ to them so that they grow knowing Christ and his values. Adding on to that, when they leave our schools they become good Christian, good men and women, good fathers and mothers, good husband and wives, good religious and good citizens in the society. Christ is the TEACHER and l feel energized and full of zeal as l draw strength and learn from him each day as l carry on his mission of teaching.
Sr. Cloudina, you have held positions of responsibility in your congregation and you have also collaborated with the Pontifical Mission Societies. Can you tell us about it?
Working and teaching at one of our schools, Emerald Hill School for the Deaf, was a time of fulfillment. It was a joy to see these children growing up to be big girls and boys who became responsible and able to look after themselves. But the real challenge was how to look after them financially, because these children came from very poor homes and they could not manage to pay their fees. So the school ran practically on donations most of the time and the Pontifical Mission Societies were one of the donors (photos in the gallery). So l am grateful and would like to thank whole-heartedly the Pontifical Mission Societies who came to our aid and helped us with money to build a block of toilets when we were really stranded. May God bless their generosity!

What is your main commitment and your challenge today?
My main commitment today is being the Directress of the novices of our International Novitiate here in Lusaka Zambia, Africa. At the present moment we have 15 Novices from three different countries: Kenya, Zambia, and Zimbabwe. I feel very happy to journey with these young women in their vocation to religious life. I thank Christ who is the FORMATOR, for all the graces he has bestowed on me to carry on teaching and walking with each one of these novices. It is not an easy responsibility; it has its joys and challenges. But with Jesus on my side l find joy in doing the work. The big challenge today is COVID – 19. Having a big group of young women living together like this, l need to make sure that they are safe, they have enough food, enough provision. So when I have to leave for a while, I am afraid and hope that I am not the one to bring COVID to them since l am the one who goes out mainly looking for all what is needed in the house. This Pandemic has affected our program. I cannot plan ahead but have to take each day as it comes. But on the whole, l trust in God that he will see us through as we keep on praying for the whole world suffering from this COVID.